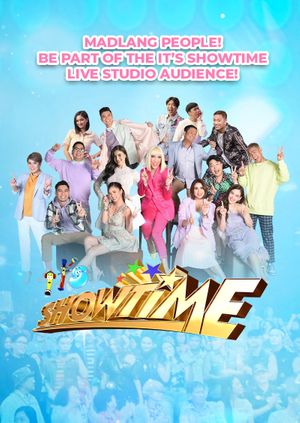 It's Showtime Live Audience
November 24, 2023 Fri 8:30am - 3pm
Event Details
USING YOUR TICKETS

-8 y/o - above
-Must be fully vaccinated
-Bring Vaccine card and Valid ID
-(Pregnant women and those with comorbidity, heart conditions are discouraged)
-Wear proper attire (no sando, no slippers)
-Wearing of anything political is not allowed 
- Self Antigen (kits c/o program) 
- Must have negative result to enter the studios
- FREE, no fees will be collected
CALL AND CUT-OFF TIMES
Please be reminded that audience are expected to come on or before 8:30AM at  the audience entrance  for registration and antigen. Audience who will come beyond 9:30AM will not be allowed to enter and tickets will be invalid. Slots will be given to walk-in audience.
***Failure to arrive before the cut-off time will mean cancellation of ticket.
TERMS & CONDITIONS
ABS-CBN wishes to provide you ("Guest") with a truly enjoyable experience. As part of the Live Audience, Guest's cooperation is requested in observing the following Rules and Regulations:
1.Guest should take antigen test in audience entrance. Antigen test c/o showtime from 8:30am to 9am
2.Guests who will test positive cannot enter the studio together with his/her companion/s (case to case basis). Guests with any symptoms cannot enter even if tested negative. No more going outside the audience entrance once antigen test is done. Don't mingle with other people while waiting for result.
3.Guest must be at the at the Call Time and not later than the Cut-off Time indicated in the Live Audience Details. If Guest fails to appear on the booked schedule, Guest shall forfeit the reserved Slot/s. In case Guest forfeits the Slot/s because of failure to arrive by the Cut-off Time, Guest may be accommodated as a walk-in guest, subject to availability of slots.
4.Rebooking will only be applicable if the Program Inclusion cancels the scheduled show and will be subject to availability of slots for the new desired date.
5.Guest must either download and print the tickets or be able to show it on a smartphone to the Studio Entrance/Marshalls. Guest may be required to show I.D. to confirm if Guest is the ticket holder.
6.Guest from 8-17 years old should present Vax Card & ID . For Senior Citizen they should also present Vaccination Card & ID. Pregnant women and persons with heart conditions,  minors 7 yrs old & below, Persons with comorbidity, Persons experiencing any kind of symptoms on the day of the live show shall not be allowed to be part of the audience of the Program Inclusion.
7.Eating and smoking are prohibited inside the Studios. Guests are advised to eat before entering the studio. No bringing of food inside the studio.
8.Guest must remain in the studio where the Program is held, and may not loiter in other areas inside the ABS-CBN premises. Guest shall not handle or use any equipment, or step or sit on any stage or platform areas, located within the Studios.
9.ABS-CBN has the right to refuse entry or remove from the ABS-CBN premises any person who manifests unpleasant, undesirable or inappropriate behavior.
10.Take care of your belongings.  ABS-CBN will not be accountable for any loss inside the studio.
11.ABS-CBN reserves the right to cancel bookings that it reasonably suspects to have been made fraudulently.
12.Audience members must comply with the security measures in place and follow the instructions of security and production personnel.
13.The owner of these tickets agrees to abide by the terms as set out here: https://www.ktx.ph/terms
14.Photo opportunities with talent/s of ABS-CBN is prohibited for Safety and Health protocols.
DRESS CODE FOR STUDIO AUDIENCES:
1.Please come in casual wear. Clothes with eye-catching logos of brands, political affiliations, or obscene statements are prohibited.
2.Do not wear hats, caps, or sunglasses while watching the show.
3.For safety reasons, wearing flip-flops is prohibited.
4.We encourage studio audiences to bring light jacket or sweaters because it is cold inside the studios.
If you experience any problems or have received this email in error, please feel free to contact us at ask@ktx.ph