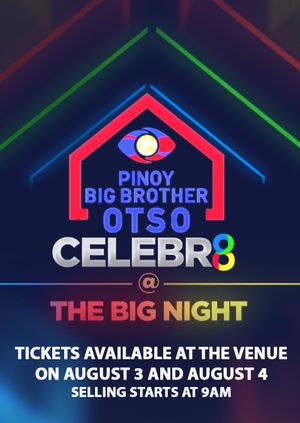 PBB Otso: Celebr8 at The Big Night
7+
August 04, 2019 Sun 5pm - 11pm
Event Details
IMPORTANT REMINDERS
1. Keep your ticket safe and secure. ABS-CBN will not be liable for any lost or unauthorized use of your tickets.
2. Guest must either download and print the tickets or be able to show it on a smartphone to the KTX Officer at the AATF lobby.
3. Unlawful resale of a ticket is grounds for seizure or cancellation of that ticket without refund or other compensation.
4. The following items are prohibited inside the studio: big bags, deadly weapons, bladed and pointed objects, parts of firearms, food, and drinks.
5. Only official Pinoy Big Brother OTSO merchandise and props are allowed inside the venue.
6. Take care of your belongings. ABS-CBN will not be accountable for any loss inside the studio.
7. Guests below 7 years old, pregnant women and persons with heart conditions shall NOT be allowed to be part of the audience. You may be required an ID upon entry.
8. Audience members must comply with the security measures in place and follow the instructions of security and production personnel.
9. Be cautious of the suspicious behavior of other persons. ABS-CBN will not be liable for untoward incidents among audience members within the company premises.
10. ABS-CBN reserves the right to refuse admission of guests who fail to comply with the safety regulations of ABS-CBN.